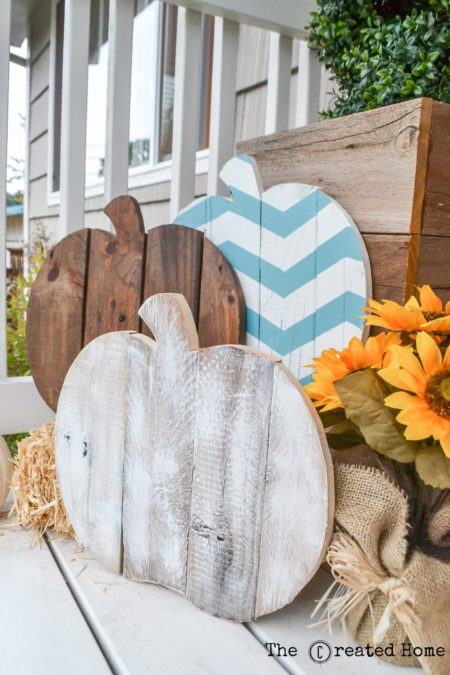 Anyone else dreaming of fall?! My favorite seasons are spring and fall – you know, the ones that don't last very long. And nothing says fall like these fun pallet pumpkins. Okay, hot chocolate does. But after that comes pumpkins. This is a simple project with room for endless creativity. And because I like you I am including not one but two templates for your use.
How to make pallet pumpkins
Start by printing the pallet pumpkin templates. Line up the pages and tape them together.
Line up your pallet boards in a visually appealing order. Make sure the stem falls entirely on one board instead of being split down the middle to save yourself some trouble.
Flip the boards over and do a partial tracing with the templates so you know how long to cut the strips that will hold the pieces together. Like so.
Cut the strips and drill holes, one for each corresponding board. Then secure the strip to the back of the pallet boards with screws. Use two strips per pumpkin. This is what it looks like when it is cut out.
Flip the boards back over and trace your template(s) on the front side.
Use a jigsaw to cut the pumpkin following the tracing. Give the newly cut out pumpkin a very light sanding around the edges if you like. Or don't.
Now finish the pumpkin or pumpkins however you like. My preference is for a simple whitewash, which I do by dipping just the tips of the brush bristles in white paint, then blotting on a scrap board before lightly brushing on the pumpkin.
I know, the pumpkins in the first photo were more colorful. I made those all different to help the church ladies see that they can do whatever they like with their own pumpkins.
So there it is. A simple craft that can totally be made for free and that works for Halloween and Fall in general.
Happy Fall!