Building a set of nightstands for our master bedroom has been on my list for a long time now, and in that time I have come up with a number of different ideas for how they could look. But eventually I stepped back and realized that what I wanted was something small and un-fussy.
I call it the Minimalist Nightstand. It features a small footprint and simple, clean lines. And I have it available for you in two versions: A basic version for those who want to keep things as straightforward as possible, and an "Applied" version for those who want a bit more of a challenge.
You can find the plans for the applied version here.
And the plans for the basic version are here.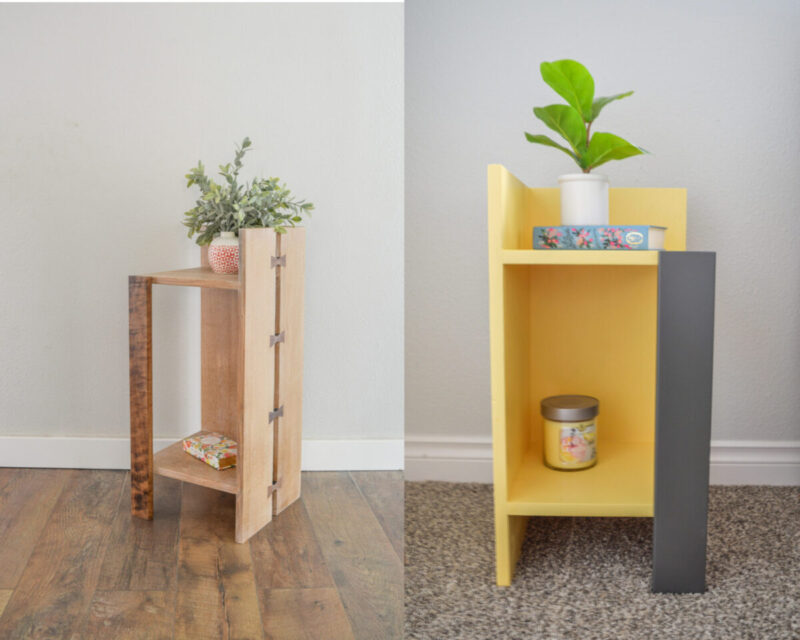 Required Materials and Tools
The Applied and Basic versions of the Minimalist Nighstand require different materials and tools. I have a complete list for each listed below to assist in determining which version would best suite you.
As an Amazon affiliate I earn from qualifying purchases. This disclosure pertains to all the links in this post. You can learn more about affiliate links here.
FOR THE APPLIED BUILD PLANS
10' linear " of 5 ½" wood
4' of 11 5/8" wide material, or join pieces to make two 11 5/8" x 11 5/8" pieces
10' linear of 6" wide wood (or 56" of 12" wide material)
23 ½" x 2 ½" contrasting wood for front "leg"
Bowtie inlays in lumber to match leg (8)
Wood glue
Slab Stitcher kit (optional, but kind of the greatest thing ever)
Table saw
Router
Router edge guide
Router bushing
Bits for clearing inlay and for creating grooves
Sander or smoothing plane
FOR THE BASIC BUILD PLANS

4 – 1x8x8' lumber
23 ½" x 2 ½" wood for front "leg"
Wood glue
1 ¼" pocket hole screws
Table saw
Miter saw
Sander
Clamps
Pocket hole jig
I love that this minimalist nightstand has a smaller footprint that helps open up the space a bit. It's clean lines help keep things feeling decluttered and clean. Please refer to the video for an overview tutorial, and be sure the download whichever plans you like for a step by step guide to building one (or two!) for yourself.
If you have any questions, please do not hesitate to reach out to me through the "Ask" link.
Happy building!